Foods, drugs, latex, and stinging and biting insects are some of the most common causes of anaphylaxis, a severe allergic reaction. Anaphylaxis can have life-threatening complications. A medicine called epinephrine is the first-line treatment for a severe allergic reaction called anaphylaxis. It is critical that people have access to epinephrine.
AAFA and KFA support a number of policies that will make it easier to get and afford epinephrine, including:
Promoting policies that increase access to epinephrine auto-injectors (EAIs) for all children and families with food allergies
Supporting laws and policies that make EAIs available in schools, child care facilities, restaurants, planes, and other public places
Supporting policies to secure and maintain the national supply of EAIs
Closed
Entity Stocking – Access to Epinephrine in Public Places
A person with a history of anaphylaxis must carry epinephrine with them wherever they go. But allergies can appear at any time of life. That makes public access to epinephrine an important in places where food is often present, such as schools, sports and recreation venues, summer camps, amusement parks, movie theaters, and other public places or "entities."
Many states have passed entity stocking laws, but there is still more to be done to encourage the remaining states to pass this type of law. People may also hesitate to give someone else epinephrine for fear of responsibility.
AAFA and KFA ask state lawmakers across the U.S. to support entity stocking laws and protection for people who use it in good faith.
See where your state stands on entity stocking.
Epinephrine in Schools
Food allergies continue to be a growing problem, especially among young children. Around 20 million people in the United States have food allergies and 4 million are children. These children spend much of their day in school. Food is naturally part of the school day, so they may be exposed to food allergens that can trigger a severe allergic. This severe allergic reaction can be life-threatening if not treated promptly.
AAFA and KFA feel states should implement policies that promote access to epinephrine, including:
Supplying schools with EAIs to be used in emergencies
Training school staff
Addressing liability concerns for people who use epinephrine in good faith.
AAFA urges state lawmakers to make the simple decision to save young lives. Schools should have access to undesignated EAIs and staff should be trained on how to use them.
See where your state ranks on epinephrine in schools in our 2019 State Honor Roll of Asthma and Allergy Policies for Schools.
Insurance Coverage and Pricing
People and families managing severe allergies often bear a heavy and rising cost burden for EAIs. They need affordable lifesaving EAIs. AAFA and KFA are actively advocating for affordable access to EAIs.
Our Advocacy Efforts for Epinephrine Access
AAFA and KFA support policies and laws that save lives and improve the quality of life for millions of people and families managing food allergies. Because this issue is one of our key policy priorities, we have been actively working to on behalf of the food allergy community to spread awareness to policymakers and other stakeholders. Here is some of the work we have been doing:
AAFA Sends Food Allergy Policy Priorities to White House – July 21, 2022
Illinois Passes Elijah's Law to Prevent Severe Food Allergy Reactions in Child Day Care Programs – August 20, 2021
AAFA Sends Memorandum in Support of S.1043

 – February 12, 2021
AAFA Sends Letter Supporting Anaphylaxis Related Bill S.7085

 – March 10, 2020
AAFA Sends Letter Expressing Support for S.B. 477

 – February 28, 2020
AAFA Sends Letter Supporting S.B. 530

 – January 30, 2020
AAFA Sends Letters Expressing Support for S.B. 642

 – January 17, 2020
New York Passes Gio's Law That Authorizes Emergency Responders to Treat Anaphylaxis – December 13, 2019
AAFA Sends Letter Supporting Dockets Relating to Epinephrine and Anaphylactic Policies

 – December 3, 2019
New Illinois Law: Insurance Companies Must Cover Epinephrine Injectors for Children – August 14, 2019
New York Residents: Ask Governor Cuomo to Sign Gio's Law – June 24, 2019
Connecticut and Texas Sign Laws to Stock Epinephrine in Public Places – June 17, 2019
AAFA Applauds Walgreens and kaléo Partnership, Increasing Patient Access to Life-Saving Epinephrine

 – September 10, 2018
Letter to the Department of Health and Human Services: People With Allergies Need Access to Epinephrine – August 24, 2018
Allergy Protocols in Federal Facilities

 – April 22, 2016
South Carolina's Emergency Anaphylaxis Treatment Act

 – February 23, 2016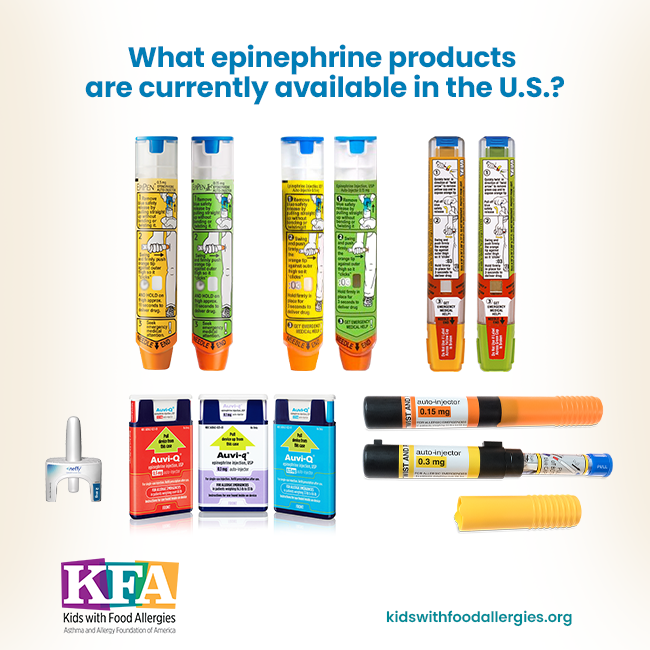 Become an Advocate
You can help us advocate on this issue and others to help reduce the burden of food allergies. Learn more about becoming a food allergy advocate and watch this page for updates on ways you can raise awareness about this issue.